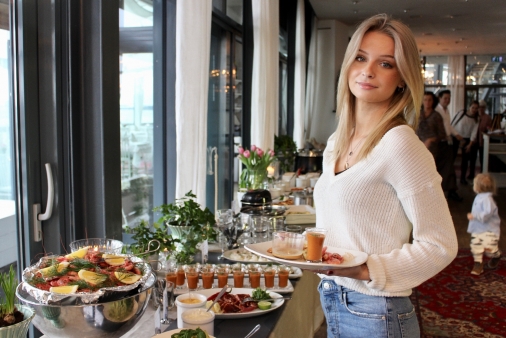 Christmas buffet at Långedrag Värdshus
16 november –
22 december
CHRISTMAS BY THE SEA!
Experience christmas at Långedrag Värdshus, only 15 minutes from Gothenburg city. With an unbeatable ocean view, our restaurant will give you a memorable experience even during winter time.
From November 16th to December 22nd we are offering a christmas buffet that has everything from Swedish classics to innovative seafood dishes and a lovely dessert table.
PRICES
Weekday lunch: 845 SEK
Weekday evening:  955 SEK
Saturday and Sunday 995 SEK Seatings: Kl.13:00, 16:00 och 19:00
Kids 3 – 6 years: 225 SEK
Kids 7 – 12 years: 455 SEK
CHRISTMAS PARTIES
We'd love to arrange your christmas party! We can accommodate 50-150 people in our christmas decorated venue, with access to a private bar and a wonderful view of the sea.
Would you be interested in booking the entire restaurant, we will be able to accommodate up to 250 people with access to a dance floor.
Contact us at info@langedragvardshus.se for prices.
Reservations via: 031-292060 or info@langedragvardshus.se